Call for Submissions
La version française suit.
The 2019 CHLA/ABSC Planning Committee invites submissions for the Annual Conference to be held in Ottawa, Ontario. The theme of the conference is "Big Ideas, Big Impact." Submissions in French are both welcome and encouraged.
To be considered, submissions must be received by December 14, 2018 11:59 pm PST. Please note that you can edit and make changes to your proposal until the deadline.
Please note: the deadline to submit an abstract for CHLA 2019 has been extended to Friday, December 14th.
---------------------------------------------------
Le comité de planification de la rencontre 2019 ABSC/CHLA vous invite à soumettre des articles, des affiches, des exposés éclair pour la conférence de l'Association des bibliothèques de la santé du Canada à Ottawa, Ontario. Le thème de la conférence est "Des idées qui influencent." Les soumissions en français sont bienvenues et fortement encouragées!
Prévoyez soumettre le résumé structuré de votre projet de recherche ou la description de votre programme ​14 décembre 2018 à 23h59 HNP. Prenez note que vous pouvez modifier votre soumission jusqu'à la date limite de dépôt.
Notez que la date limite pour soumettre un résumé pour l'ABSC 2019 a été reportée au vendredi 14 décembre 2018.
---------------------------------------------------
https://www.memberleap.com/members/proposals/propselect.php?orgcode=CHLA&prid=492145
---------------------------------------------------
Conference Program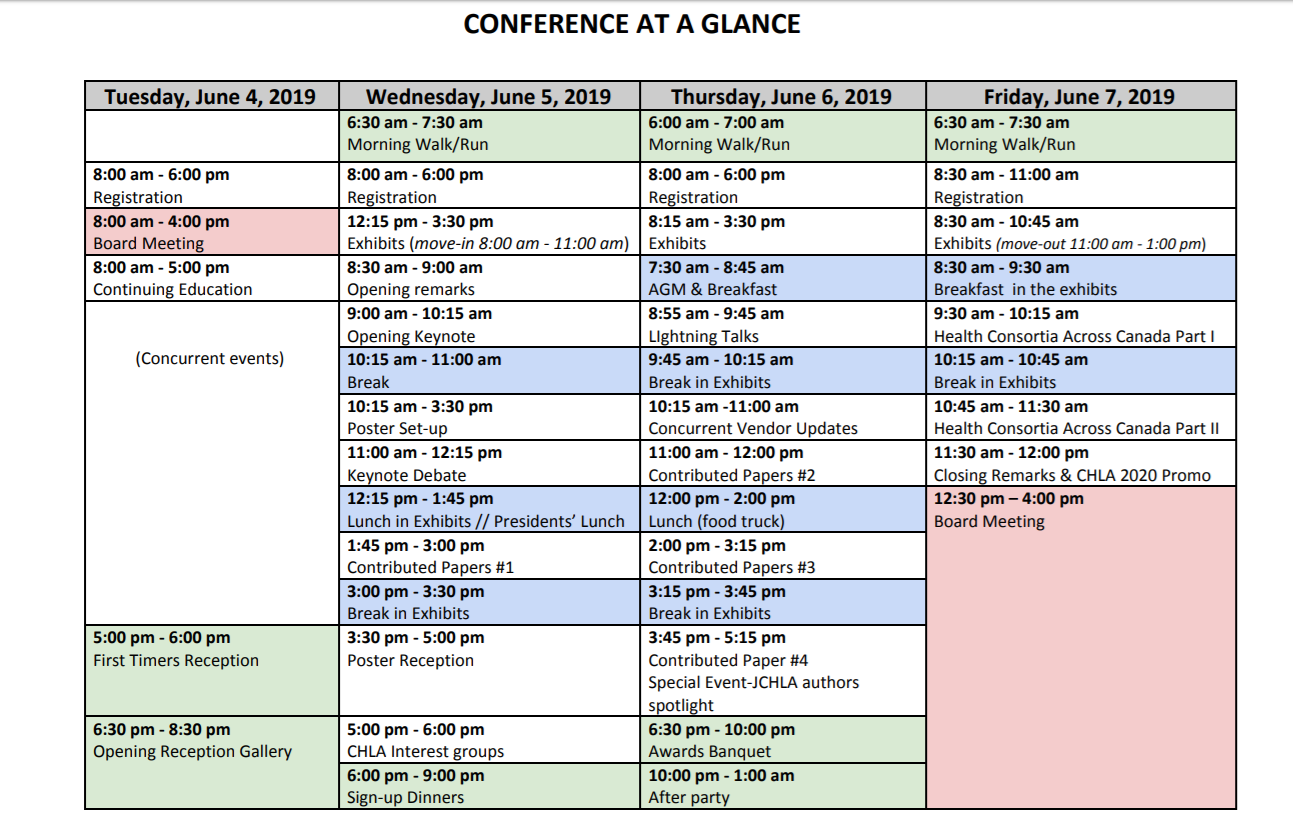 Posters
Each poster presenter will have one side of a 4 x 4 foot pin-friendly cork board (pins will be provided on location).

Poster set-up time is Wednesday, June 5 between 10:15 am - 3:30 pm.

Posters open for viewing Wednesday, June 5 at 3:30 pm.

Presenters are expected to 'present' their posters June 5 between 3:30-5:00 pm.

Details surrounding poster awards TBA.
Poster Specifications: There are no special specifications for the posters, beyond them being legible and able to fit on the cork board provided.
​
Tips on Designing Posters:
Include the title, the author(s), affiliation(s), and a description of the research, highlighting the major elements that are covered in the structured abstract
Posters are visual – add pictures, graphs, charts etc. to make the poster interesting.

Keep text to a minimum and use a large font size so that the poster can be read from a distance.

Keep some white space - don't overwhelm the reader with too much text or graphics.

If you laminate the poster, consider using a low-glare or matte finish.

Consider bringing smaller copies of your poster as a hand-out.

Ensure that your poster is set up and taken down at the specified times.
​
For more information about poster design, please review the following websites:
University of Guelph: http://www.soe.uoguelph.ca/webfiles/agalvez/poster/
University of Toronto: https://guides.library.utoronto.ca/c.php?g=250934&p=1672361
Questions? Please contact Sandra McKeown sandra.mckeown[at]queensu.ca